Credit Union 1 Amphitheatre | Tinley Park, Illinois
Just when you thought the Summer couldn't get any better – Vans Warped Tour joins the must-see festival list for 2017!
If you're a fan of Metal/Alternative/Punk then whatever you do – don't miss this years Vans Warped experience as it takes to a stage near you! You'll be able to catch your favorite acts all in one place for one day only! Stay tuned for all line-up announcements…
This year is set to be the biggest one yet – join the mayhem at Hollywood Casino Ampitheatre on Saturday 22nd July 2017!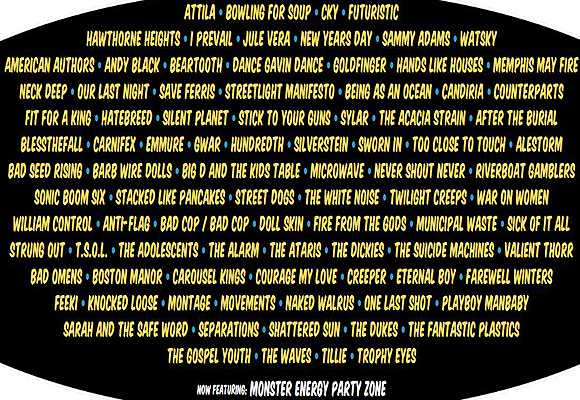 The biggest US touring festival, Vans Warped has been traveling across North America, Europe, Canada and Australia for over 20 years! This epic event gives music fans a chance to join forces with others and be part of a crowd at a local outdoor venue. As it's reputation continues to grow, more of the greatest bands come to headline and support – don't miss out for 2017! Some of the previous names to perform at Vans Warped Tour have included; Less Than Jake, Asking Alexandra, Blink 182, Good Charlotte, Sleeping With Sirens, New Found Glory and many many more!
This year's tremendous line-up:
Journey's Left Foot Stage:
Attila (6/16-7/2, 7/6-8/6)
CKY (6/16-8/6)
Bowling for Soup (6/27-7/2, 7/26, 7/27, 7/29, 7/30)
Futuristic (6/16-6/23, 6/25-8/6)
Hawthorne Heights (6/16-8/6)
Never Shout Never (6/27-7/7)
I Prevail (6/16 – 8/6)
Julie Vera (6/16-8/6)
Watsky (6/17-7/14, 7/16-7/18, 7/20-7/21, 7/23-8/6)
New Years Day (6/16-8/6)
Sammy Adams (6/16-7/28, 8/1-8/6)
Journey's Right Foot Stage:
American Authors (6/16-7/19, 7/21-8/6)
Andy Black (6/16-8/6)
Beartooth (6/28-8/6)
Dance Gavin Dance (6/16-8/6)
Goldfinger (6/16-6/17, 8/4-8/6)
Hands Like Houses (6/16-8/6)
Memphis May Fire (6/16-8/6)
Neck Deep (6/16-8/6)
Our Last Night (6/16-8/6)
Streetlight Manifesto (6/24)
Save Ferris (6/21-8/1, 8/5)
Monster Mutant North Stage:
The Acacia Strain (6/16-8/6)
Being as an Ocean (6/16-8/6)
Candiria (6/21-8/6)
Counterparts (6/16-8/6)
Fit for a King (6/16-8/6)
Hatebreed (6/21-8/6)
Silent Planet (6/16-8/6)
Stick to Your Guns (6/16-7/2, 7/6-8/6)
Sylar (6/16-8/6)
Monster Mutant South Stage:
After the Burial (6/16-8/6)
Blessthefall (6/16-8/6)
Carnifex (6/16-8/6)
Emmure (6/16-8/6)
Gwar (6/16-8/6)
Hundredth (6/16-8/6)
Silverstein (6/16-8/6)
Sworn In (6/16-8/6)
Too Close to Touch (6/16-8/6)
Skullcandy Stage:
Alestorm (6/21-8/6)
Bad See Rising (6/16-7/4)
Barb Wire Dolls (6/16-8/6)
Big D and the Kids Table (7/6-7/16)
Microwave (6/16-8/6)
Riverboat Gamblers (7/29 & 7/30)
Sonic Boom Six (6/16-8/6)
Stacked Like Pancakes (7/16-8/6)
Street Dogs (7/6-7/16)
Twilight Creeps (8/4-8/6)
War on Women (6/16-8/6)
The White Noise (6/16-8/6)
William Control (6/16-8/6)
Hard Rock Stage:
The Adolescents (6/16-8/6)
The Alarm (7/7-7/16, 8/4-8/6)
Anti Flag (6/27-7/24)
The Ataris (6/16-8/1)
Bad Cop / Bad Cop (6/16-8/6)
The Dickies (6/16-6/22, 6/24 & 6/25)
Doll Skin (6/16-6/25)
Fire From the Gods (6/16-8/6)
Municipal Waste (6/16-7/2, 7/6-8/6)
Sick of It All (6/21-8/6)
Strung Out (6/16-7/11, 8/4-8/6)
Suicide Machines (7/18-7/21)
TSOL (7/22-8/6)
Valient Thorr (6/16-8/6)
Full Sail Stage:
Bad Omens (7/4-7/24)
Boston Manor (6/16-8/6)
Carousel Kings (6/16-7/5)
Courage My Love (6/16-8/6)
Creeper (6/16-8/6)
The Fantastic Plastics (6/16-7/2)
Farewell Winters (6/16-8/6)
Feeki (6/16-8/6)
The Gospel Youth (6/16-8/6)
Knocked Loose (6/16-8/6)
Movements (6/16-8/6)
Naked Walrus (6/23 & 6/24)
One Last Shot (7/7-7/10)
Playboy ManBaby (6/22-8/6)
Shattered Sun (7/26-8/6)
Separations (7/6-7/24)
Tillie (7/26-8/6)
Trophy Eyes (6/16-8/6)