Credit Union 1 Amphitheatre | Tinley Park, Illinois
The best-selling American girl group of all time, with a whopping record of 85 million albums sold worldwide, TLC will unleash mega doses of girl power as they hit the road again covering a wide terrain of key cities and states across the country. This particular tour is dubbed as the "Celebration of CrazySexyCool", a pivotal album in their career. Released in 1994 Diamond-certified album hits 27, yet its compelling songs sound as fresh, relevant, and relatable as ever. With its remaining original members, Tionne 'T-Boz' Watkins and Rozonda 'Chilli' Thomas carrying the torch, this tour is generating so much buzz and excitement around long-time loyal fans and among a new generation of followers. Catch TLC, featuring supporting rap and hip-hop titans Bone Thugs N Harmony ignite a crazy, sexy, cool hip-hop frenzy at the Hollywood Casino Amphitheatre on Wednesday 15th September 2021. Get your tickets now!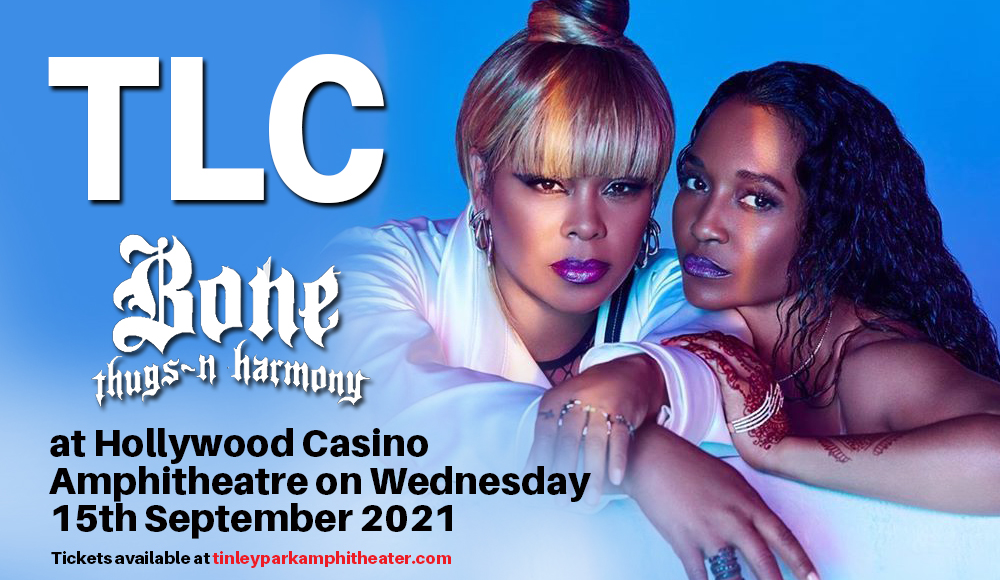 Released on November 15, 1994, CrazySexyCool was the album that put TLC on the global map and solidified its stance in the girl-power music movement. With its lead singles "Creep" and "Waterfalls" reaching number one, "Red Light Special" peaking at number two, and "Diggin' on You" perching at number five on the charts, TLC has got the world on their feet. Critics were also singing high praises, with Rolling Stone ranking it among the 500 Greatest Albums of All Time.
TLC continued its trail-blazing streak with high-powered singles like "No Scrubs", and "Unpretty" from the equally best-selling album "Fan Mail". They set the bar high and positioned themselves worthy of the tag 'influential'. Vibe believed that there would be no "all-black female R&B group having a chemistry, cultural and commercial impact as remotely comparable as TLC" and dubbed CrazySexyCool as "the blueprint for female ensembles to follow".
David A. Keeps from Rolling Stone explained the impact of TLC:
"TLC's career has been filled with both hits and headlines. The group was one of the few R&B acts to build a strong identity out of its initial success, and they exerted more control over each successive record. Their music – particularly the 11-million-selling CrazySexyCool and the 6-million-selling FanMail, both of which won two Grammys each – set the standard for contemporary R&B. TLC helped to pioneer a deft blend of acoustic and computer sounds that paved the way for groups like Destiny's Child, as did their image as independent women. Whether addressing AIDS in 'Waterfalls' or the struggle for female self-esteem in 'Unpretty', they showed themselves able to take serious issues to the top of the pop charts."
An all-female powerhouse group plus an all-male rapid-fire rap group will cross paths on stage. Truly one big night of celebration for rap, hip-hop, and soul fans. TLC & Bone Thugs N Harmony — these names alone trigger a mad dash for tickets. For fast and easy tickets, click on the 'Get Tickets' link right here, right now!