Credit Union 1 Amphitheatre | Tinley Park, Illinois
Brit Synth-pop masters from the MTV days, Tears for Fears are coming to Hollywood Casino Amphitheatre for The Tipping Point World Tour 2022 on Thursday, June 16th, 2022 with very special guests, the very weird not-pop-rock band, Garbage! Grab some tickets, some baggy T-shirts, and maybe even throw on a glow stick, it's time to re-live the glorious 90s with some brand-new music! The Tipping Point, is Tears for Fears' first album in 17 years, due out in Feb 2022, and Garbage have their seventh album, No Gods No Masters, out back in June 2021.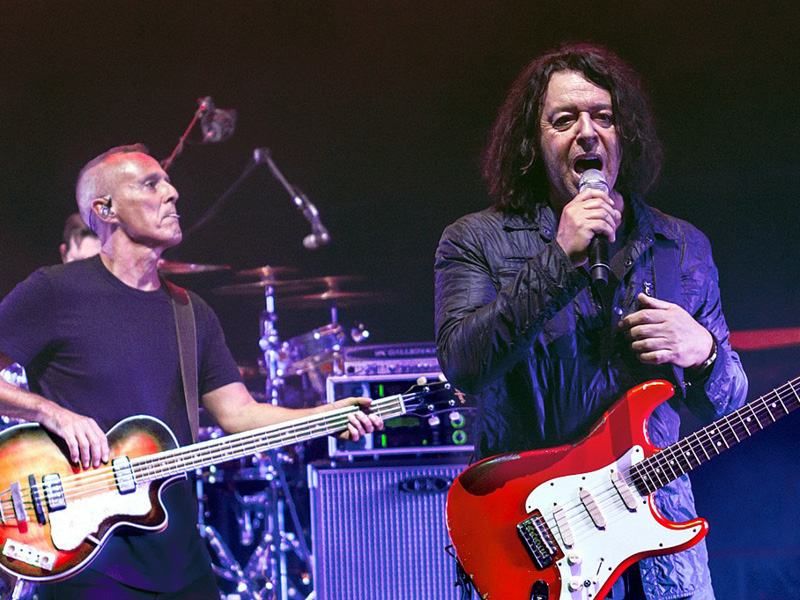 "We couldn't be more excited to start playing concerts again. We've missed seeing our friends on the road around the world and the energy of performing live," Tears for Fears' Curt Smith said in a press release. Roland Orzabal added, "The Tipping Point has been a long time in the making, and we are looking forward to playing our favorites from the new album as well as our classics from throughout the years."
Tears For Fears are an English Synth-pop duo made up of Roland Orzabal and Curt Smith, they broke America with their second studio album, Songs from the Big Chair, rocketing to the top of the charts on the strength of the singles "Everybody Wants to Rule the World" which won the Brit Award for Best British Single in 1986, and "Shout," both of which hit number 1 on the Billboard 100, and the number 3 "Head Over Heels," which were all supported by clever, stylish videos that received heavy MTV airplay. The album also hit number 1 on the Billboard 200 and went multi-platinum in both the UK and the US. The Tipping Point, will be Tears for Fears' seventh studio album.
Garbage is singer Shirley Manson, and guitarist, bassist, and keyboardist Duke Erikson, guitarist and keyboardist Steve Marker, and drummer Butch Vig. Their seventh studio album, No Gods No Masters, was released in June 2021. "This is our seventh record, the significant numerology of which affected the DNA of its content: the seven virtues, the seven sorrows, and the seven deadly sins," singer Shirley Manson explained, describing No Gods No Masters as "a critique of the rise of capitalist short-sightedness, racism, sexism and misogyny across the world."