Credit Union 1 Amphitheatre | Tinley Park, Illinois
Midwest rockers Styx and REO Speedwagon have joined forces to bring you the United We Rock Tour! Joined by very special guest ex-Eagles guitarist Don Feldman, these iconic bands will be coming to Hollywood Casino Ampitheatre on Saturday 1st July 2017 for a show like no other!
Styx's Tommy Cronin had this to say about the tour: "Hitting the road with REO and Don Felder is gonna be an unforgettable evening of music for the fans and another chance to hang with these good time friends of ours who love the life as much as we do."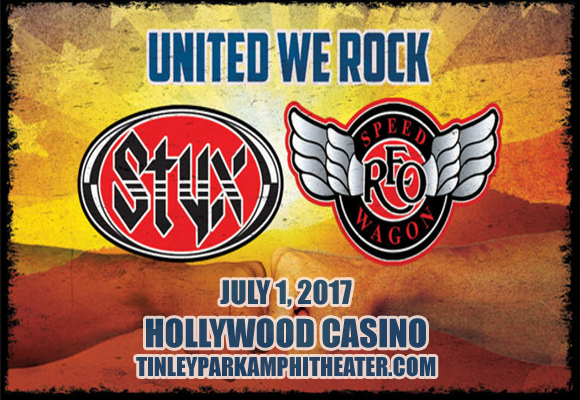 American rock band Styx was formed in Chicago in 1972. Signing to Wooden Nickel Recordings that same year, the band released their first four albums with the label – Styx (1972), Styx II (1973), The Serpent Is Rising (1973) and Man of Miracles (1974) – making a name for themselves as a prog rock band. Their first widespread hit, "Lady" from Styx II, led the band to receive gold certification for the album from the RIAA in 1975, two years after it was released. The band continued to have chart hits throughout the late 1970s and 1980s with singles such as: "Come Sail Away" (#8, 1977), "Babe" (#1, 1979), "The Best of Times" (#3, 1981), "Too Much Time on My Hands" (#9, 1981) and "Mr. Roboto" (#3, 1983). Styx also continued their commercial success with albums sales, releasing five consecutive albums certified multi-platinum by the RIAA, three of which were certified triple-platinum, from 1977 to 1983.