Credit Union 1 Amphitheatre | Tinley Park, Illinois
Slipknot fans, are you ready for this?? The masked heavy metal legends are back with a bang in 2019, with promises of a brand new album and the Knotfest Roadshow tour: a HUGE touring mini-fest featuring Volbeat, Gojira and Behemoth!! The roadshow hits the Hollywood Casino Ampitheatre on Sunday 11th August 2019 – NO fan is going to want to be left out of this one!! They'll all be clamouring for those tickets, so be quick about grabbing yours – hit that "Buy Tickets," button NOW!!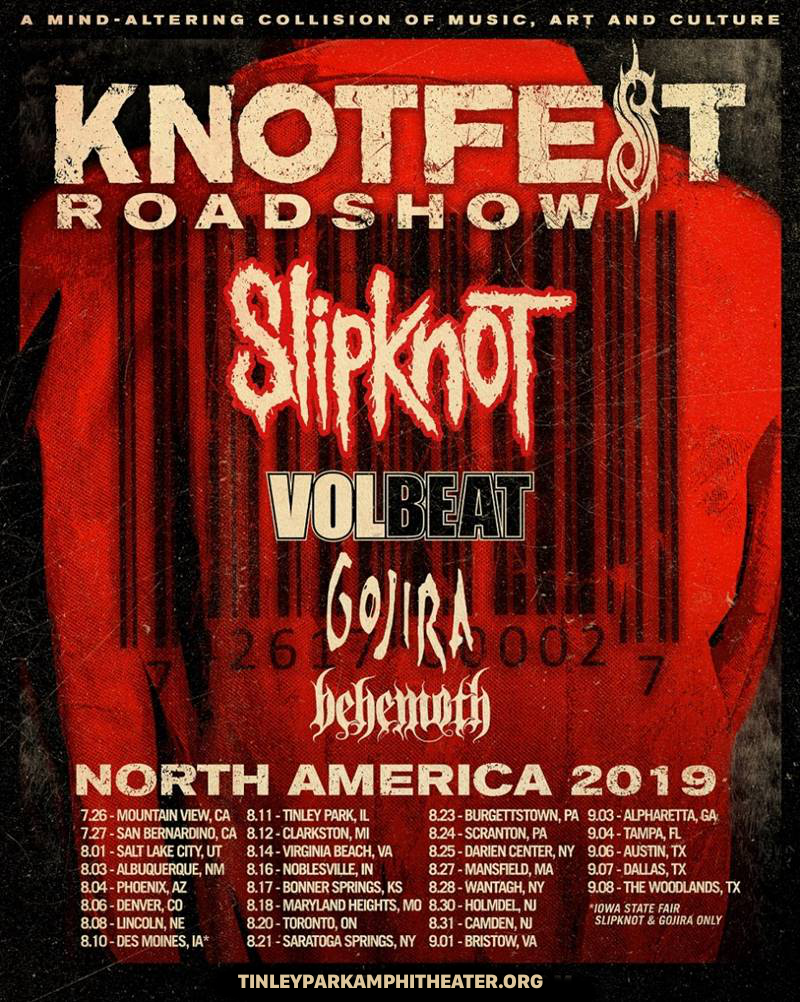 The announcement of the upcoming release of the new album comes hot on the heels of Slipknot's latest release, the fierce single "All Out Life," – and, to probably no-one's surprise, it's a song that's got critics and fans alike very, very excited for the album yet to come. "All Out Life" is a song that is trying to do two things: bring everyone together, but also remind everyone that the past is not something to be discarded with disdain," singer Corey Taylor explained, when asked about the song's composition and meaning. "People are so eager to find the next big thing sometimes that they s*** all over the bands and artists that have come before, thus making the past feel disposable, like a dirty thing… "All Out Life" is the anthem that reminds people that it's not the date on the music – it's the staying power."
Nobody's doubting Slipknot's staying power, that's for sure. Are you ready to witness it live?? Then make sure you've got your tickets – they won't last long!!