Credit Union 1 Amphitheatre | Tinley Park, Illinois
Metalheads, a glorious reign is coming to an end. The omnipotent Slayer are finally disbanding after almost 40 years touring together, 12 live albums, over 3000 live performances and shaking the world to the core with the formation of a genre of music that would impact generations to come. The Hollywood Casino Amphitheatre is proud to host what will be one of their last-ever concerts, with support from top metal bands Lamb of God, Anthrax, Behemoth and Testament, live on Friday 25th May 2018. Be part of musical history – get your tickets to Slayer's farewell tour now, while they last!!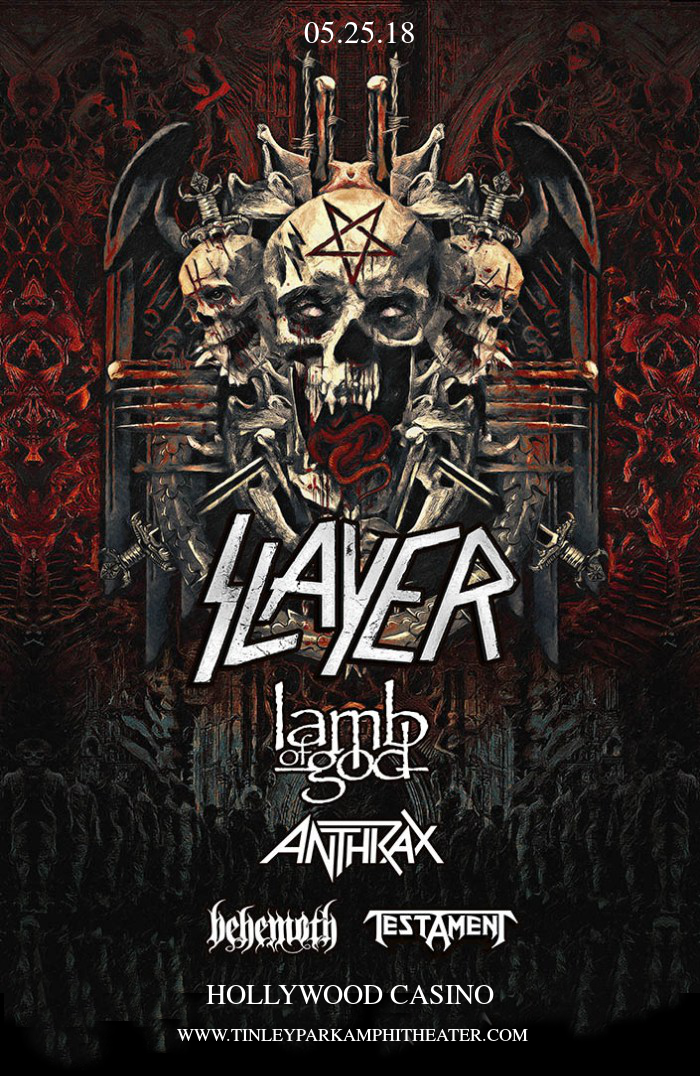 In their extensive career together, Slayer have laid the foundations, along with fellow Big Four members Metallica, Anthrax and Megadeth, for the shape of all metal music to come. Randy Blythe, vocalist for Lamb Of God, expressed the gratitude towards Slayer that just about every metal-influenced band shares today. "If you are lucky enough to be invited to play even just once with living legends like Slayer, it's an incredible honor… Slayer gave Lamb of God our very first two overseas shows. Slayer has subsequently taken us on several full-length tours, both at home and abroad. The guys in Slayer and their crew have also always been very, very cool to our band."
Get ready to celebrate four decades of thrash and the legacy of one of the greatest metal bands to ever walk the earth – get your Slayer tickets quick, before they sell out!!