Credit Union 1 Amphitheatre | Tinley Park, Illinois
She's definitely still the one, the one and only "Queen of Country Pop", Shania Twain is back, set to reign and conquer as she releases her sixth studio album "Queen of Me" in February of 2023. Giving fans a taste of the new record with her newest single "Last Day of Summer", the legendary country artist also announced a headlining tour in support of her new record. The Queen of Me Tour is taking over the stage at Hollywood Casino Amphitheatre on Saturday, 1st of July 2023. Don't miss out on the grand party with the queen herself, Shania Twain, by booking your tickets now!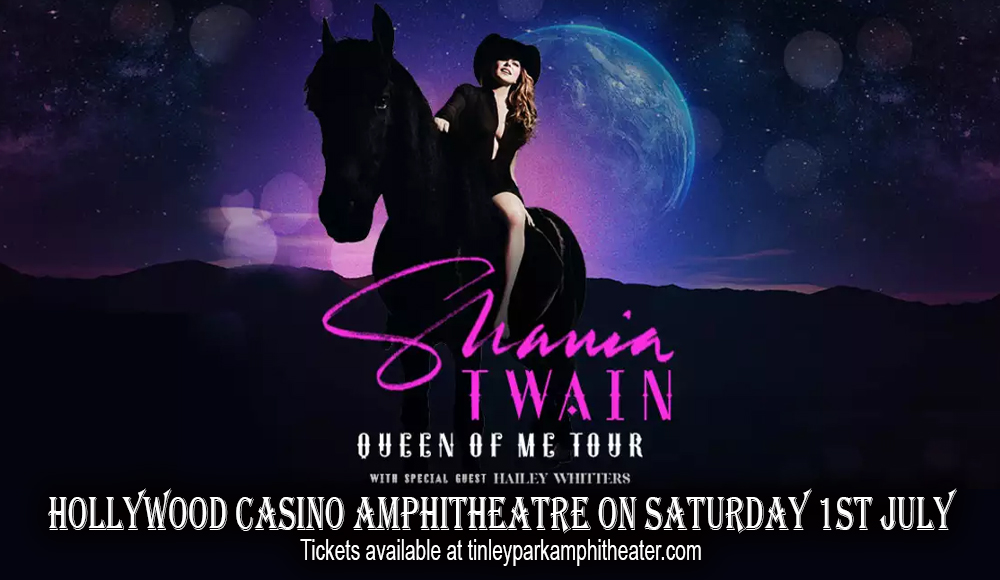 Blessing the world with a slew of chart-topping hits and country pop favorites since 1993 including "From This Moment On", "That Don't Impress Me Much", "Forever and for Always", "Man! I Feel Like a Woman!", and "You're Still the One", Shania Twain earned much praise and recognition as a reigning "Queen of Country Pop" for her distinct sound, lyrical craft, and special charm. Selling over a hundred million records, she holds the title of the best-selling female artist in country music history. Billboard penned her as a leader of the 90s country-pop crossover stars.
Hailing from Ontario, Canada, sitting alone in a forest with her dog and a guitar as she started writing songs, Shania Twain rose to the top after the release of her sophomore album "The Woman in Me". From then on, she bagged multi-platinum and multi-diamond certifications for her undeniably great musical craft and ability.
Following her 2017 comeback, Twain's finally releasing a new album "Queen of Me" featuring her newest single "Las Day of Summer" – a track that explores young love, along with her previously released songs "Not Just a Girl" and "Waking Up Dreaming" as featured in her Netflix documentary "Shania Twain: Not Just a Girl". As a record that's "about standing in your own power and worshipping yourself", Shania Twain is ready to spread more power and encouragement to each one of her fans.
"These days, I'm feeling very comfortable in my own skin – and I think this album reflects that musically," Shania shared. "Life is short and I want to be uplifted, colorful, unapologetic and empowered. I want to carry a clear message, particularly as a woman, to always remember my power and I hope the songs are a reminder to you, of that same power inside you!"
"Queen of Me" hits the airwaves on February 3, 2023, and is already taking in pre-orders. Make sure you're first in line to get your hands on the queen's "most triumphant-feeling body of work", as you gear up to witness the new record come to life on her upcoming tour.
"I want to celebrate this new chapter with you all on my tour! Vegas has been a dream, but I'm ready to be on the road and sing with you, dance with you and have a kick ass night out with you! This one's gonna be a big party – no inhibitions, no conditions, let's get a little out of line!!" Shania shared.
As announced by Shania and Live Nation, part of the tour's proceeds will be donated to Shania Kids Can, a nonprofit charity that supports children's health amidst poverty, crises, and hardship.
The Queen of Me Tour goes on sale this Friday, November 4th. Mark your calendars and get your hands on those hot tickets as soon as possible!