Credit Union 1 Amphitheatre | Tinley Park, Illinois
It's time to hit it pitch-perfect in a cappella as the global vocal sensation, Pentatonix, is hitting the stage on The World Tour. Fresh from being honored with a Hollywood Star on the Hollywood Walk of Fame, the quintet is set to take their soaring vocal talent on an extensive tour, stopping by at Hollywood Casino Amphitheatre on Saturday, 2nd of September 2023. Joining the tour is special guest Lauren Alaina. Get ready for a goosebump-worthy night with the one and only Pentatonix by booking those tickets now!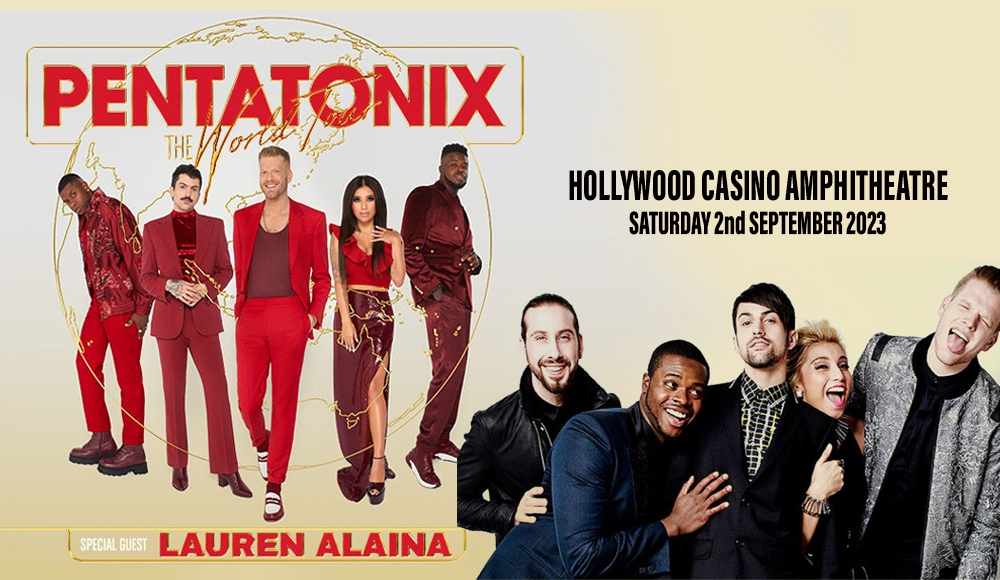 Having made history as the first a cappella group to receive a star on the Hollywood Walk of Fame, the three-time Grammy Award-winning group, Pentatonix, is launching Pentatonix: The World Tour, crossing over 24 cities in its North American leg.
From entering a contest to meet the cast of Glee, hopefuls Kirstin Maldonado, Mitch Grassi, and Scott Hoying submitted a trio rendition of Lady Gaga's "Telephone". Though they didn't get to meet the stars of the hit TV series, they found themselves in the global spotlight as their cover started gaining massive attention on YouTube.
As the whole group met on the day before auditions for NBC's The Sing-Off, they all successfully made it through, finishing in 1st place on the show's third season. Reaching a bigger audience after their winning reign at the show, the group continued to serve their edge with pop-infused influences mixed with dubstep, reggae, hip-hop, and classical music.
Pentatonix's notable covers throughout their career include "Daft Punk", "Radioactive", "Your Love Is My Drug", "Cheerleader", "HAllelujah", "Dancing on My Own", and many more. Beyond pop hits, the group is also acclaimed for their Christmas specials which include covers of "Mary, Did You Know?". "Silent Night", and "Little Drummer Boy".
In February 2021, Pentatonix released its newest original album "The Lucky Ones", six-years since their last full-length original record. Reflecting on their journey, Grassi shared in an interview with Atwood Magazine, "I think it's important to show that we are still human at the end of the day and that we are grateful for this incredibly surreal ride that we have been experiencing together. That we are unified through all this. It's this beautiful moment of reflection and compassion."
Celebrating freedom, challenges, and beautiful experiences amidst years of soaring vocals that bring the world to life, Pentatonix is sharing this milestone with all of their fans at Pentatonix: The World Tour. Don't miss out by booking those tickets now!