Credit Union 1 Amphitheatre | Tinley Park, Illinois
Get ready for an epic nostalgia hip-hop tour!! Two of the best-loved acts from the 90s and the start of the decade, Nelly and TLC are headed on a huge North American tour, coming to the Hollywood Casino Ampitheatre on Sunday 18th August 2019!! Be there – tickets are on sale now and expected to disappear fast! Get 'em while they last!!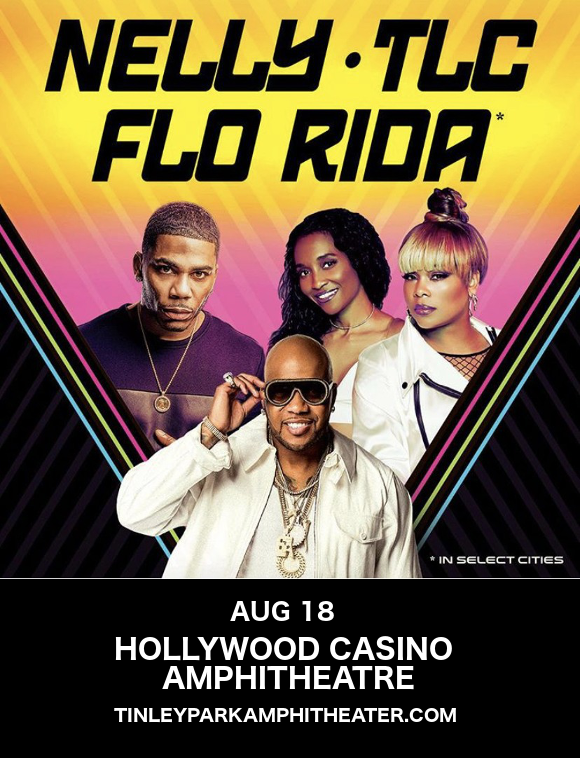 Despite more than a decade passing since their last release, the latest, self-titled TLC record sounds like nothing has changed. "We're smart enough to understand what people love about us," Rozonda Thomas said in an interview. "And they love the authenticity: the things we talk about, how we dress, how we perform. We just stick to that formula. The outcome is always going to be a TLC song because of the sound, her voice and my voice."
As for headliner Nelly, he emerged on the hip-hop scene with his debut album "Country Grammar", the lead single of which shot straight to the top 10. The album is now his best-selling so far, with over 8.4 million copies sold in the United States alone! Collaborating with massive artists including Kelly Rowland, Justin Timberlake, Murphy Lee and St. Lunatics, from his first album onwards his career simply soared, scoring one hit after another and finally becoming one of the best-selling rap artists in American history.
Well, what are you waiting for?? Tickets to this incredible show won't be around for long – get yours NOW and get ready for the hip-hop experience of a lifetime!!