Credit Union 1 Amphitheatre | Tinley Park, Illinois
The infamously famous country-fried southern rock star and a beloved arena-rock band have joined forces for a kick-ass aptly titled "Bad Reputation". Kid Rock will take center stage at the Hollywood Casino Amphitheatre on Friday 19th August 2022, with Foreigner to open the show and Grand Funk Railroad as a special guest. Kid Rock's hip-hop Cowboy signature style which was fully realized on his breakthrough album "Devil Without a Cause" through the smash single "Cowboy" (1999), is considered a cutting edge fusion in the country rap genre. The mad dash for tickets has begun with fiercely loyal fans who are in eager anticipation for this spiffing show. Don't be left behind. The quickest and easiest way is to click on that 'Get Tickets' sign on this sign to book your tickets now!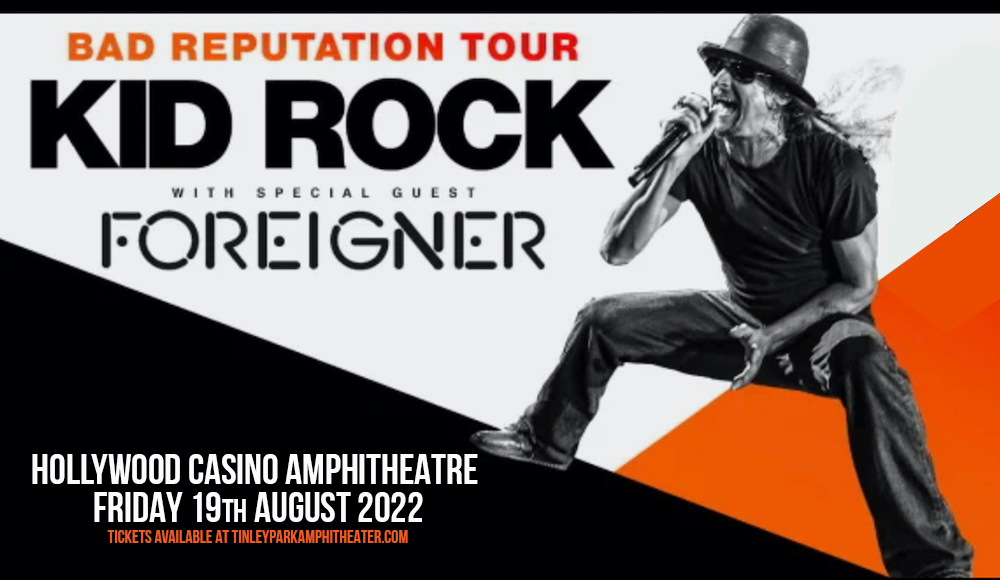 It's hard to put a pin down on Kid Rock's music. His 'bad reputation' may have stemmed from his eclectic sound, which draws from genres such as hip hop, rap rock, rap metal, hard rock, heavy metal, Southern rock, country, nu-metal, blues, funk, and soul. This hip-hop cowboy strays away from the conventional and goes in different directions, yet his solid and fiercely loyal fanbase follows him around over the years that it's hard to dismiss his influence not only on fans but on aspiring young music artists too.
Known professionally as Kid Rock, he is a jack-of-all-trades who plays every instrument in his backing band and has overseen production on all but two of his albums. Kid Rock started out as a rapper and DJ, with his 1990 debut album Grits Sandwiches for Breakfast. Yet Kid Rock stretched his hip-hop style and fused it with country and southern rock elements. Ergo, producing the off-the-beaten-track single "Cowboy" and the commercially successful and highly acclaimed "Devil Without a Cause" (1998) album, which sold 14 million copies.
"Bad Reputation" will be Kid Rock's 11th studio album, and also the banner album for his upcoming tour. Veteran rocker Foreigner will be joining him on this wild ride is thrilled to the bone to be part of it.
"We are so looking forward to touring again with our good friend Kid Rock. Our 2015 tour across the U.S. introduced Foreigner to a whole new audience and I will never forget the wonderful times we had with him on his ten show sold out run in Detroit," Foreigner's Mick Jones said in a press release.
"I remember so well standing side stage watching some of his electrifying performances. I wrote 'Dirty White Boy' as a tribute to Elvis, but it also serves as a tribute to Kid Rock. I look forward to dedicating that song to him every night during the tour."
"Bad Reputation" tickets are on sale now! Quickly get on the 'Get Tickets' link to lock it in right here, right now!