Credit Union 1 Amphitheatre | Tinley Park, Illinois
Fans of Kesha and Macklemore, you're in for a treat! These two pop stars are teaming up for a massive North American Tour, coming to the Hollywood Casino Amphitheatre on Saturday 14th July 2018. Kesha and Macklemore – it's going to be a night like no other! Don't miss it, whatever you do!! Hit the "Buy Tickets," button now to get yours before they sell out.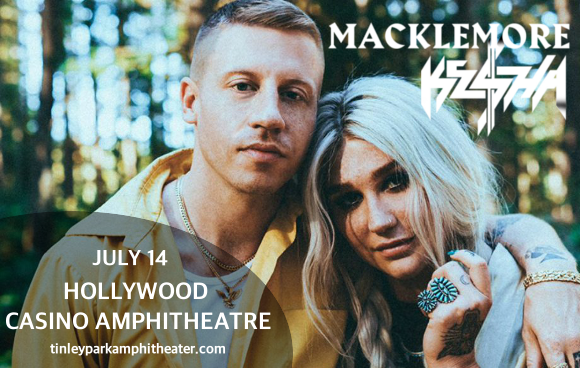 Macklemore and Kesha surprised fans in 2017 with a collaborative single. The pairing of the two came about thanks to producer and rapper Ryan S. Lewis, Macklemore's musical partner of old. "Well, Ryan had a session with her in Seattle. She was already here. They had already done "Praying" and they were working on a couple other records that I don't think made her album. She had an off day and I hit Ryan and was like, 'Would you mind if I hit up Kesha?' And he was like, 'Of course not.'"
Kesha and Macklemore gelled instantly, and the result was "Good Old Days," the incredible second single from Macklemore's second album, "Gemini". Kesha, too, has a new album out – "Rainbow," her first full-length album in five years. Expect to hear all the new material from both these phenomenal artists live, in addition to all their best well-known hits you know and love and maybe some surprises too!
Watch the fun promo video for The Adventures of Kesha and Macklemore tour below – but don't wait about too long, those tickets won't last!