Credit Union 1 Amphitheatre | Tinley Park, Illinois
Grab your tickets today for this incredible Hiphop list of talent, that's right – Kendrick Lamar, SZA & Schoolboy Q comes to Hollywood Casino Ampitheatre on Friday 15th June 2018….
"DAMN. sees the rapper make a 180 degree turn from the sprawling jazz/funk/hip-hop odyssey of TPAB to deliver 14 taut, tough and wise cutting-edge examples of what's possible in hip-hop today. … Essential stuff."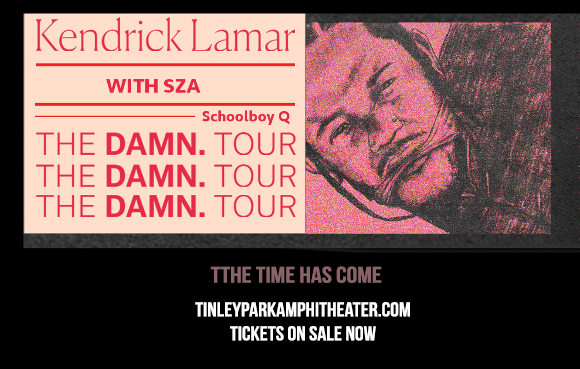 2012 was probably Lamar's biggest year to date with his huge record 'good kid, m.A.A.d city', he hit the number two position on the US Billboard 200 chart and the album certified platinum! With this immense status he exploded and people around the globe were talking about his tracks that were just so darn catchy! Singles such as; "Swimming Pools (Drank)", "Bitch, Don't Kill My Vibe", and "Poetic Justice".
All of these sure had the vibes and filled the void that was missing at the time within the music charts!
2015 was another incredible year as Kendrick went on to release a third album and won his first Grammy Award that same year! Jazz, funk, soul, spoken word, Hipho – you name it, this guy has got it and it's done with such effortless and natural talent, such a cool character.
Along with all of this and more, even just in a short amount of years, Lamar has gained such a positive response and reached a peak in his career with being titled "Hottest MC in the Game" by MTV and one of the 100 most influential people in the world in 2016 by Time!