Credit Union 1 Amphitheatre | Tinley Park, Illinois
'Welcome to the new age! It's definitely a new age for the pop-rock mega hitmakers, Imagine Dragons, kickstarting their return to the stage at the Mercury World Tour in support of their latest record, "Mercury", a two-act album with the second part being much-awaited by fans. The tour is stopping over at Hollywood Casino Amphitheatre on Friday, 26th of August 2022. Catch them perform their best hits such as "Believer", "It's Time", "On Top of the World", and "Radioactive". Imagine Dragons just recently dropped their newest single "Bones" off of the upcoming 2nd act of their Mercury record. As they sing about having magic in their bones no matter what comes their way, this radioactive magic is definitely going to spread like wildfire as the crowd raises their hands, singing their hearts out to the band's electrifying performances. So, get the magic in your bones ready and book those tickets now!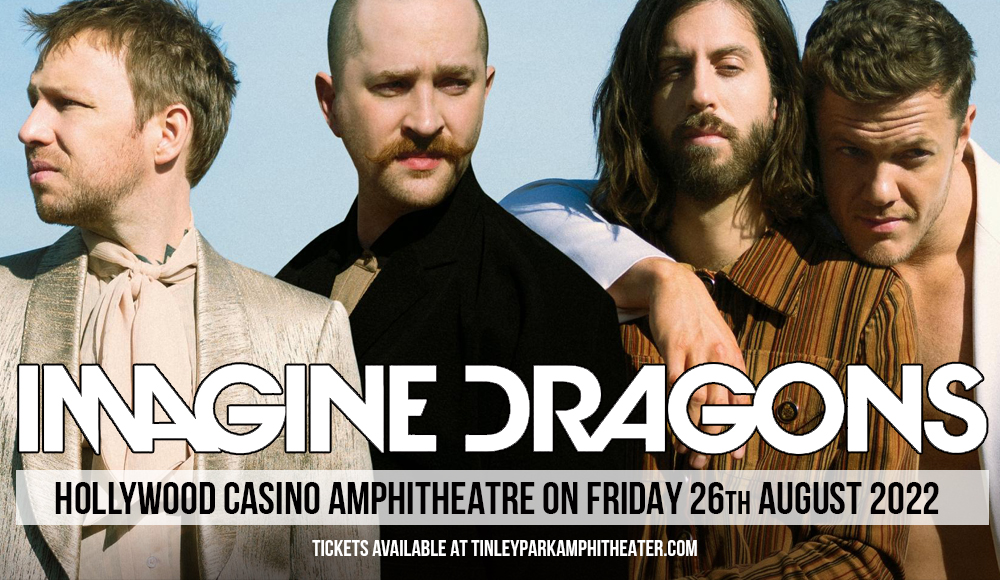 The radioactive energy that spawned numerous hits over the last decade all started in 2008 when lead vocalist Dan Reynolds met former band drummer Andrew Tolman at Brigham Young University. They recruited people, formed the band, and went on to record a couple of EPs and played gigs. Imagine Dragons found their big break when Train's Pat Monahan felt ill just before the Bite of Las Vegas Festival 2009. The band was asked to fill in, performing for an audience of over 26,000. Gaining recognition from various features, Imagine Dragons signed with Interscope in November of 2011.
2012 marked the band's ignition to worldwide success with the release of their debut single, "It's Time". The single hit #15 on the Hot 100, awarded 6x Platinum by the RIAA. September met the release of their debut album "Night Visions" which hit #2 on the Billboard 200, certified RIAA 7x Platinum. The album spawned many hits including the 4x Platinum "On Top of the World", the RIAA Diamond "Demons", and the RIAA 14x Platinum single "Radioactive". Radioactive stayed on the Hot 100 for 87 weeks, the longest single to do so before the record number was surpassed by The Weeknd in 2021. The hit single was Spotify's most-streamed song in 2013, hailed as "the biggest rock hit of the year" by Rolling Stone.
After "Night Visions" took the pop-rock global stage by storm, Imagine Dragons continued to create radioactive waves amassing even more hits in their succeeding records. More of their biggest hits include "I Bet My Life", "Shots", "Sucker for Pain" (with Lil Wayne, Wiz Khalifa, Ty Dolla $ign,
and Logic featuring X Ambassadors), Believer, Thunder, and much more.
The band's present roster that makes it all possible includes lead vocalist Dan Reynolds, guitarist Wayne Sermon, Ben McKee on bass, and Daniel Platzman on drums. Together, they continue making radioactive waves in mainstream the mainstream pop-rock scene across the globe.
As Imagine Dragons take on a new era with 2021's "Mercury – Act 1", fans are itching to hear what's in store in Act 2. Just recently, the band gave fans a taste of the upcoming second half of Mercury with their newest single "Bones". So, don't miss out what's in store in this new era on the Mercury World Tour by grabbing your tickets now!