Credit Union 1 Amphitheatre | Tinley Park, Illinois
That's right, the rumors are true!! Darius Rucker, Mark Bryan, Dean Felber and Jim "Soni" Sonefeld are joining forces for the first time in over a decade – Hootie And The Blowfish hit the road once again in 2019, and they're taking the Barenaked Ladies along with them! It's all happening at the Hollywood Casino Ampitheatre on Saturday 24th August 2019 – do not miss it!! Click the "Buy Tickets" button above and get your tickets to see Hootie And The Blowfish while they last!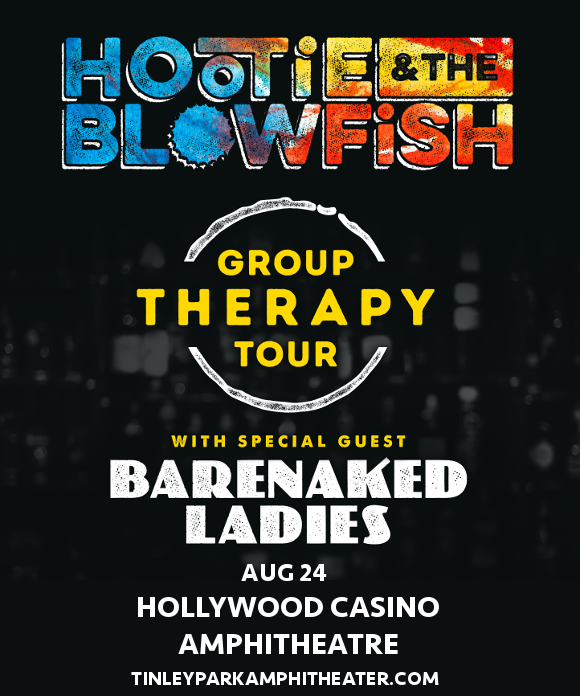 The new tour is in honour of the 25th anniversary of their breakthrough debut album "Cracked Rear View." Despite being a stark contrast to the heavy grunge music that was popular at the time, the album resonated with many people, resulting in almost unprecedented popularity – sales skyrocketed, and "Cracked Rear View," hit number one not just once, but an astonishing 5 times over the course of its release year. The album brought the band huge success and the opportunity to tour the globe, and after plenty of this and several more albums, the band went on hiatus so that their frontman, Darius Rucker, could pursue a solo career in country music. Now, the band have finally regrouped.
In addition to the new tour, Hootie And The Blowfish have confirmed that a new album is in the works, scheduled for release in 2019. We can hardly wait to hear it – can you?? If not, then you'd best be quick about getting those tickets – they won't stick around for very long!