Credit Union 1 Amphitheatre | Tinley Park, Illinois
Some nineties artists have come and gone; but here's one artist extraordinaire who has proven time and time again that he's 2 Legit 2 Quit! Everybody stops, looks, and listens when he says 'Hammertime!'. This is none other than MC Hammer. He's pounding and smashing the concert tour circuit with his "Hammer House Party" tour. And with a little help from his equally awesome friends –Sir Mix-a-Lot, Kid n Play, 2 Live Crew & The Funky Bunch, they'll come hitting the stage of the Hollywood Casino Ampitheatre on Thursday 25th July 2019. Shoutout to all your friends to stop playing throwback. Just get on down, get on the move, and buy those tickets now!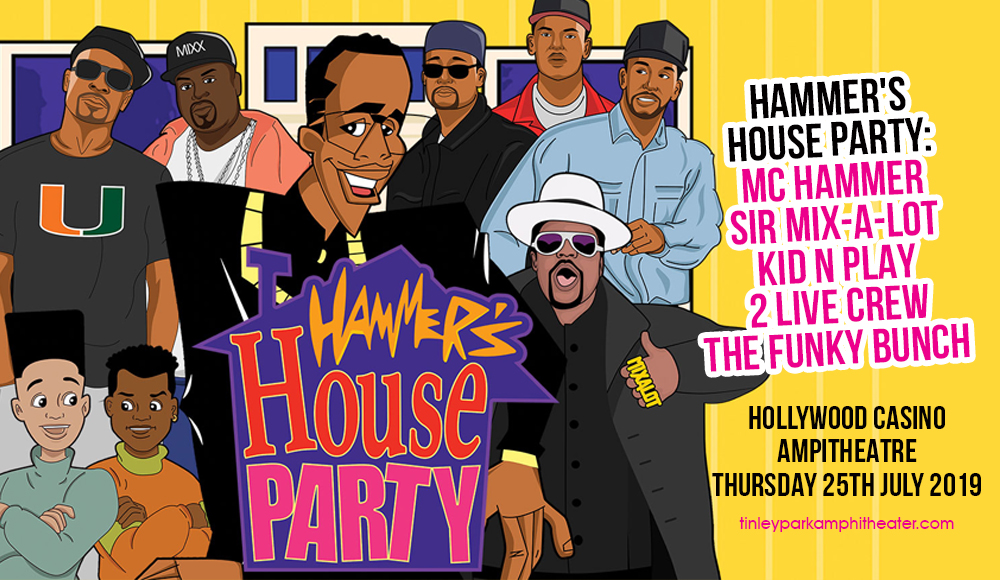 MC Hammer is mister excitement personified. His funky moves, ultra-infectious ditties, and of course, those flashy hammer pants! His mega-hits " U Can't Touch This", "Too Legit To Quit", "Pray", and many more, brought him über success and popularity on a worldwide scale, with a whopping album sales of over 50 million units.
He has bagged three Grammy Awards: Best Rhythm and Blues Song (1990), Best Rap Solo (1990) and Best Music Video: Long Form (1990) taken from Please Hammer, Don't Hurt 'Em: The Movie. He also a recipient of eight American Music Awards, a People's Choice Award, an NAACP Image Awards and the Billboard Diamond Award, which was the first for any hip hop artist.
He may have had his career moments of ups and downs. But in the eyes of his fans and industry execs, he's still at the top of his game. Concert promoter and agency co-owner Jeff Epstein explains: "Hammer is one of our top clients for a very long time, and he's one of the hardest working and most giving people I know… The demand for him as a performer has actually increased while he's been off the touring circuit. He truly is 2 legit to quit!"
This is one legit house party that shouldn't dare miss. Go, book those tickets now!