Credit Union 1 Amphitheatre | Tinley Park, Illinois
EVENT CANCELLED. Please contact your ticket point of purchase to claim a refund on your tickets.
Ready yourself for a concert experience like no other as the genre-bending Gorillaz set the stage on fire at the Credit Union 1 Amphitheatre, this coming September 16th, 2023. Birthed from the innovative minds of Damon Albarn and Jamie Hewlett, Gorillaz isn't just a band; it's a transcultural phenomenon. They've blurred lines between rock, pop, hip hop, and electronic music, crafting a unique soundscape that resonates globally. From chart-dominating classics such as Feel Good Inc. to Clint Eastwood, their repertoire is bold and impactful. The magic of Gorillaz extends beyond music, encapsulating a visual experience that pairs cutting-edge graphics with intoxicating rhythms. Their career, marked with noteworthy honors including a Grammy, highlights their indelible imprint on modern music. Don't miss this opportunity to be a part of their spellbinding spectacle. Revel in the energy-filled atmosphere of an evening set to bewitch your senses and electrify your spirit. An extraordinary musical journey with Gorillaz awaits.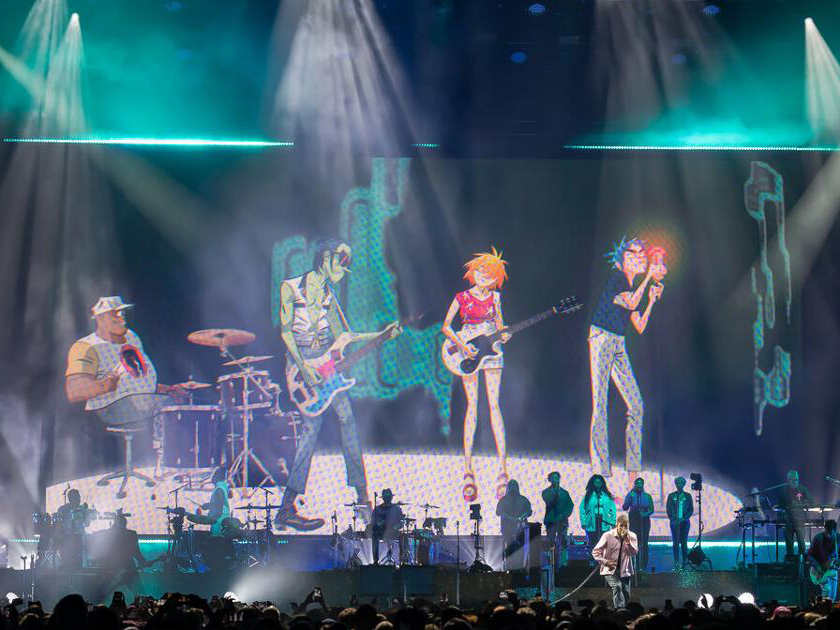 Prepare to immerse yourself in a musical journey as the Gorillaz descend upon the Credit Union 1 Amphitheatre on Saturday, September 16th, 2023. A brainchild of Blur's Damon Albarn and comic virtuoso Jamie Hewlett, this avant-garde virtual ensemble has been shattering musical boundaries since 1998, always defying and reinventing industry norms in an unexpected way.
Their colorful roster features animated band members- the brooding 2-D, quirky Murdoc Niccals, enigmatic Noodle, and grounded Russel Hobbs. Their individualistic charm infuses the band with a unique flair that reverberates through their music, a vibrant blend of rock, pop, hip hop, and electronic, challenging and thrilling listeners worldwide.
Songs such as Feel Good Inc. and Clint Eastwood aren't just hits – they're cultural phenomenons, expertly blending thought-provoking lyrics, unforgettable melodies, and innovative visuals. Gorillaz's music has embedded itself into the heart of pop culture, firmly cementing their place as icons of the music industry's history.
The enchanting Credit Union 1 Amphitheatre, famed for its pristine acoustics, forms the perfect setting for this electrifying spectacle. Amidst its tranquil ambiance, you'll find yourself surrendering to a concert that promises to ignite your senses with unparalleled joy, with both visual and auditory sensations to behold.
Throughout their dynamic journey, Gorillaz have earned international acclaim, bagging prestigious awards, including a coveted Grammy and a multitude of MTV accolades. With a track record of chart-topping albums and high-profile collaborations, they've showcased their prowess in crafting music that forges a profound bond with audiences across the globe.
This concert presents a rare opportunity to witness Gorillaz's mesmerizing magic live. Secure your tickets today and gear up for an evening overflowing with exceptional music and high-octane performances. Join us at the Credit Union 1 Amphitheatre on September 16th, 2023, for a stunning musical odyssey that promises to stir your soul and electrify your senses. Brace yourself for a night of unforgettable melodies and remarkable artistry brought to life by the singular talent of the Gorillaz.