Credit Union 1 Amphitheatre | Tinley Park, Illinois
TINLEY PARK!!! Pay attention, because this involves you! Godsmack and Staind will be coming to your village on August 10th, 2023, so all of you hard rock fans have something to go nuts about. The whole thing is part of their new tour, which goes between July 18 at the Hollywood Casino Amphitheatre in St. Louis and August 31 at the Germania Insurance Amphitheatre, during which these two incredible artists will perform in a total of 25 cities across North America. The amphitheater will be filled with intense drumming, pounding guitar riffing, crazy strong vocals, and wild fans going bananas. All you have to do to get your tickets for the most unforgettable experience of your life is scroll above and click the "GET TICKETS" button. Don't let anything or anyone stand in your way; it will be the best thing you get to do all year. DO IT NOW!!!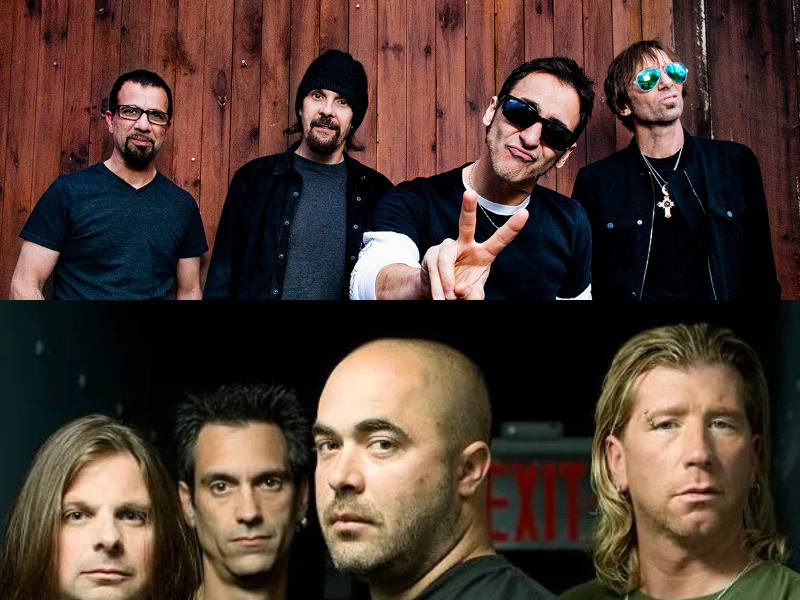 Without ICONIC LEGENDS in the rock, such as GODSMACK and STAIND, the world would be a rather uninteresting place, but fortunately they are present so we have a lot to be thankful for. Since the band's founding in 1995, HARDROCK has been pumping through their veins, and their fans have shown their appreciation by boosting three of their albums—FACELESS, IV, and THE ORACLE—to the top spot on the Billboard 200 album charts.
Godsmack made their debut in 1998 with their self-titled album, which eventually achieved 4x platinum status. Since then, they have continuously delivered enthusiastic live performances and radio hits. They truly are that good and then some! 25 songs by Godsmack have reached the top ten of the rock radio charts, with 18 of them being top-five hits.
Fun fact: The group Godsmack was commissioned to compose a song for the motion picture The Scorpion King, and the song became a huge hit. That song was the most played active rock single on ROCK RADIO for 14 straight weeks in 2002. The film THE PRINCE OF PERSIA, WARRIOR WITHIN also used this song.
Along with GODSMACK, legendary rock group STAIND will serve as co-headliners. The band's debut album, titled DYSFUNCTION, was an immediate commercial success. The album peaked at number 74 on the Billboard 200 album chart. Songs from the album like "JUST GO," "MUDSHOVEL," and "HOME" have become the musical storylines of many of their adoring fans lives.
To thank them for their incredible work, fans have rewarded them with more than 15 million albums sales, for their efforts in creating seven studio albums and eight top-ten singles. The modern rock radio staple "It's Been a While" is a smash hit that nobody will ever forget. In fact, that song is now regarded as one of the best-selling rock radio singles in history.
Both of these incredible musicians are ready to take you on an epic rock and metal journey complete with powerful vocal screams, thunderous drumbeats, and heavy guitar riffs. You simply can't pass up this once-in-a-lifetime chance. Purchase your tickets as soon as possible before they are all gone.