Credit Union 1 Amphitheatre | Tinley Park, Illinois
There is excellent news for all Latin music lovers in Illinois! This September, one of Mexico's most celebrated urban acts is making its way to North America for a highly-anticipated tour, and they're stopping in Tinley Park! Renowned urban sensation Fuerza Regida is embarking on their much-awaited Otra Peda Tour, and they are traveling to the U.S. for an 18-city trek! The tour kicks off in the summer and will extend all the way to fall! On Saturday, 23rd September 2023, the global powerhouse Fuerza Regida will conquer the Hollywood Casino Amphitheatre! Fans can look forward to the group's critically-acclaimed modern, urban tunes infused with regional Mexican music. Dubbed "music for the people," Fuerza Regida's works have been a staple among young Latin music listeners. This 2023, they're set to conquer iconic venues and showcase their sensational hits, such as "Bebe Dame," "Ch y la Pizza," "Dijeron Que No La Iba Lograr," and many more! Catch Fuerza Regida this fall by scoring tickets now to their show in Tinley Park, Illinois!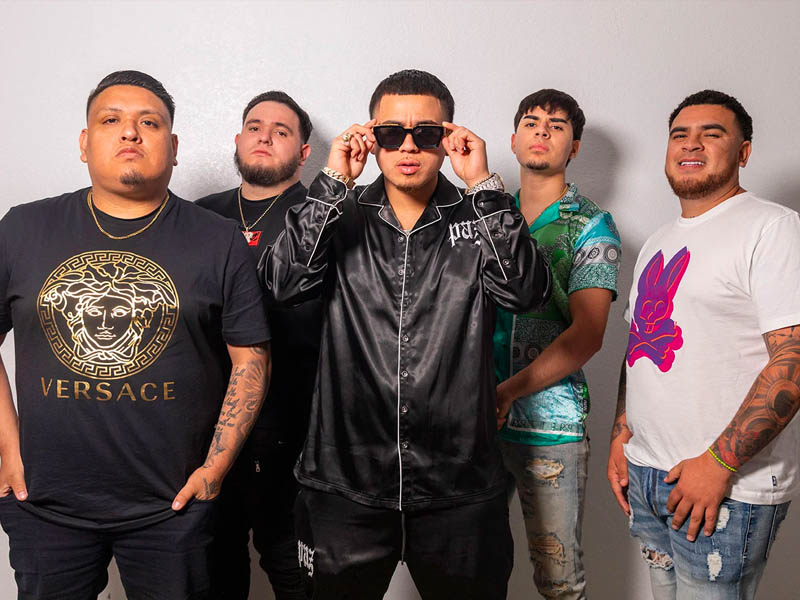 Fuerza Regida is a urban-regional Mexican band hailing from San Bernardino, California. The group comprises singer Jose Ortiz Paz, tuba player Jose Garcia, requinto player Samuel Jaimez, guitarist Khrystian Ramos, and tololoche player Moises Lopez. Fuerza Regida originally formed as a cover band in East Los Angeles in 2015.
Last year, the band released their latest album, Sigan Hablando. The record spawned the mega-hit "Bebe Dame" with the popular Mexican band Grupo Frontera. The collaboration song served as Fuerza Regida's debut on the Billboard Hot 100 chart, peaking at number 91. The single, released via Street Sony Music Latin, has clocked in over 7.1 million streams in the U.S. Moreover, the song was purchased over 1,000 times. In its second week, the song soared from number 19 to 5 on Billboard's Hot Latin Songs chart. Fuerza Regida's viral success can be credited to their rising popularity on Tiktok, wherein the song has been used on videos 74,000 times.
The band has been a regular on Billboard's Latin charts for the past five years. Fuerza Regida has 14 entries, including the monster 2018 single "Radicamo En South Central" on Hot Latin Songs. During an interview, Ortiz Paz mentioned that the single opened many doors for the band. The single led to Legado 7's Ramon Ruiz discovering the band and signing them to two labels, Music Lumbre, and Rancho Humilde.
Fuerza Regida currently represents a new generation of Mexican musicians. The band pulls influences from various genres and artists, such as Hijos de Barron, Adriel Camcho, and the American heavy metal band Metallica. The band writes lyrics about Mexican culture, street life, love, and many other things. This music style is best showcased by the singles "Malos Pasos" and "Sigo Chambeando."
During an interview with Billboard, guitarist Ramos added that the band performs regional Mexican and urban music but doesn't want listeners to put them in a box. "We don't want people to think that we play a specific type of genre. We want people to know that Fuerza Regida is capable of much more."
Catch Fuerza Regida this fall by scoring tickets to their highly-anticipated show at the Hollywood Casino Amphitheatre!