Credit Union 1 Amphitheatre | Tinley Park, Illinois
Alt rock and post-grunge aficionados, make room in your calendar on Sunday 17th September 2017, for on their "A Brief History Of Everything Tour 2017" Counting Crows, in collaboration with Matchbox Twenty, are on their way to the Hollywood Casino Ampitheatre!! Fans of either band can't afford to miss this opportunity to see them live – hit the "Buy Tickets," button above to be sure of your place, but hurry, they won't last long!!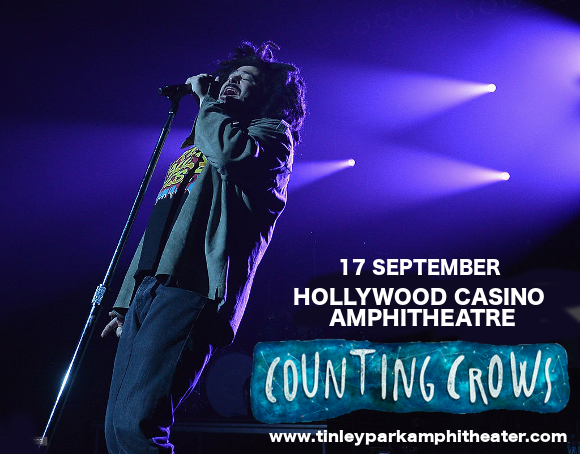 Named after the well-known British children's nursery rhyme, as a nod to their gradual adding of band members as they gradually went from a duo consisting of vocalist Adam Duritz and guitarist David Bryson to a fully-fledged 7-piece band. Reaching massive success in 1993 with their performance at the Rock & Roll Hall of Fame Induction Ceremony followed by the release of their full-length debut "August and Everything After," with the hugely popular single "Mr. Jones," Counting Crows have gone from strength to strength since, accumulating a huge fanbase worldwide.
The band, in particular their frontman, have become especially well-known for their passionate and energetic live performances. Adam Duritz often adds to and reworks songs live, adding extra verses, alternative endings, or completely mixing up the band's songs into one another!! Whilst performing on Howard Stern's Sirius broadcast radio show, Duritz performed a version "'Round Here" that Stern described as one of the best performances in his studio he had ever heard!! Fans can expect some surprises and brand new delights live, one of the many factors that make Counting Crows a truly unique act in their genre. Don't miss out – get your tickets to see this incredible band live TODAY!!