Credit Union 1 Amphitheatre | Tinley Park, Illinois
If you're a fan of the Counting Crows, you can't afford to miss their 25th anniversary tour!! The 25 Years And Counting Tour is coming to the Hollywood Casino Ampitheatre with special support from Live!! It's all happening on Saturday 8th September 2018. This is guaranteed to be a sell out show if their past concerts are anything to go by, so don't delay – get your tickets to see Counting Crows NOW while you can!!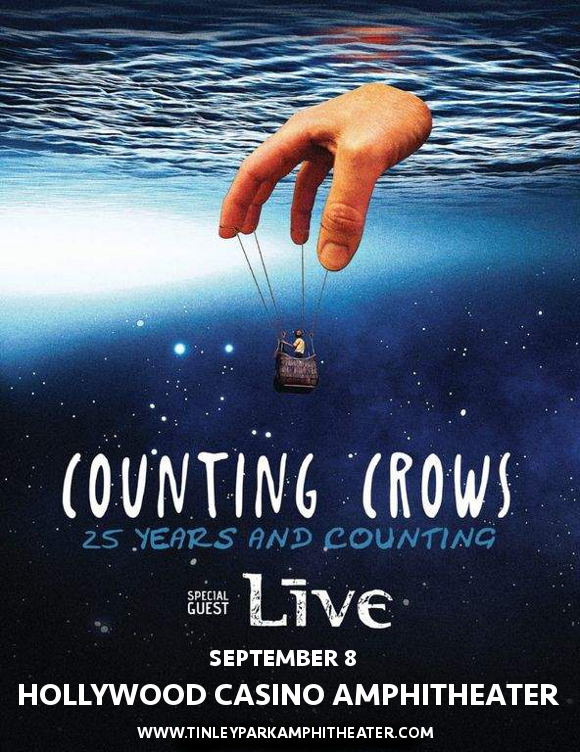 Formed by vocalist Adam Duritz, formerly of the band The Himalayans, with guitarist David Bryson, the Counting Crows, named after the British nursery rhyme, started out as an acoustic duo, playing shows around San Fransisco and Berkeley. More musicians gradually joined the band, leading to fuller live performances and their becoming signed to Geffen Records. Their debut album, "August and Everything After," in particular the single "Mr. Jones" led to widespread success for the band. Since then, the lineup has expanded to a full seven-piece to bring all the sounds of the records to life in live performances!
The band's most recent album is the stunning "Somewhere Under Wonderland" described by the Daily Telegraph as the band's "best collection of songs since their debut." Considering just how good their debut album was, that's really saying something!!

Watch the video for "Pallisades Park," below, but don't wait about too long to get tickets – they aren't going to last!!