Credit Union 1 Amphitheatre | Tinley Park, Illinois
Are you ready for an ultimate night of rock 'n roll from the rock icons of the 80s, 90s, and 2000s? Be a part of this year's "Parti-Gras Festival Tour," headlined by the iconic Bret Michaels. The Poison frontman is ready to make your summer extra hotter this July 29 as he spearheads an exhilarating concert at the Hollywood Casino Amphitheatre. Joined by the former Journey vocalist Steve Augeri and the Sugar Ray lead Mark McGrath, Michaels promises to bring all the killer hits to the famous Illinois venue. Deemed "Nothing But A Good Vibe Music Festival," the concert will also feature the 40th anniversary of the rock band Night Ranger. To top it all off, the American rock band Jefferson Starship will also join the party. This is a lineup every rock fan could not resist. Grab your tickets now before they run out.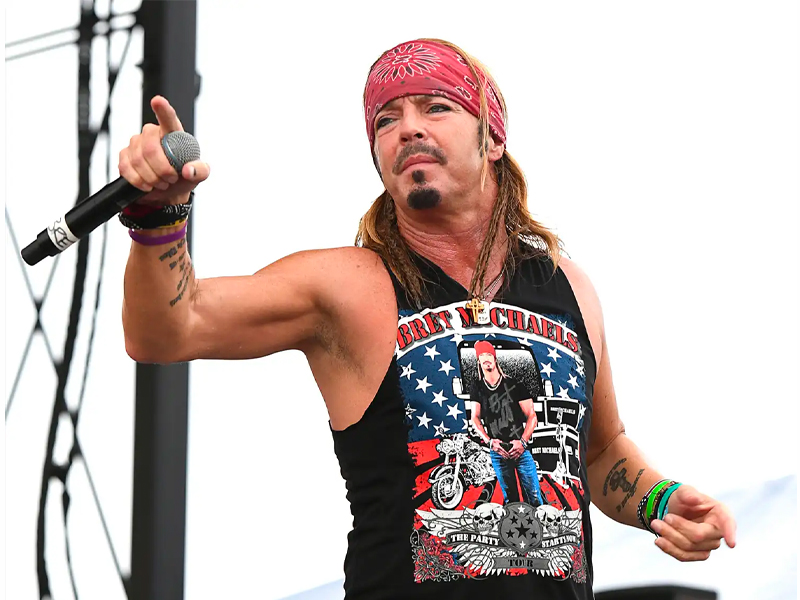 Bret Michaels is an American singer-songwriter, musician, actor, and television personality. He is best known as the lead singer of the glam metal band Poison, which he co-founded in 1983. He has also released several solo albums and starred in the reality television shows Rock of Love with Bret Michaels and Bret Michaels: Life As I Know It. Michaels began his career in the music industry in 1983 when he co-founded the glam metal band Poison. The band achieved great success in the late 1980s and early 1990s with hit singles such as "Every Rose Has Its Thorn," "Talk Dirty to Me," and "Unskinny Bop." The band has sold over 45 million records worldwide and has been nominated for several Grammy Awards. In addition to his work with Poison, Michaels has released several solo albums, including "A Letter from Death Row" (1998), "Songs of Life" (2003), "Freedom of Sound" (2005), and "Custom Built" (2010).
After a successful Poison tour this year, Bret rears for his first-ever mardi gras-like concert called the 2023 Parti Gras tour. Coming along to the party are sensational rock bands and artists Night Ranger, Jefferson Starship, Steve Augeri (ex-Journey lead singer), and Mark McGrath (Sugar Ray), plus a nightly surprise guest.
Night Ranger is an American rock band from San Francisco, California, formed in 1979. The band gained popularity during the 1980s with a series of albums and singles, including the hits "Sister Christian," "Don't Tell Me You Love Me," and "When You Close Your Eyes." The band's lineup has changed several times over the years, but the core members have remained the same since the early 1980s. Night Ranger's sound is a mix of hard rock, pop, and AOR, with a strong emphasis on vocal harmonies. The band's lyrics often focus on themes of love, loss, and nostalgia. Night Ranger has released nine studio albums, two live albums, and numerous compilations and singles. Night Ranger's most successful album was 1984's "Midnight Madness," which featured the hits "Sister Christian" and "When You Close Your Eyes."
Jefferson Starship is an American rock band formed in the early 1970s by former members of the band Jefferson Airplane. The current lineup consists of founding members David Freiberg and Paul Kantner, along with longtime members Donny Baldwin, Chris Smith, and Cathy Richardson. The band's first album, "Dragon Fly," was released in 1974 and featured the hit single "Ride the Tiger." The album was a commercial success, reaching the Top 10 on the Billboard 200 chart. The band's follow-up album, "Red Octopus," was released in 1975 and featured the hit single "Miracles." The album was even more successful than its predecessor, reaching the Top 5 on the Billboard 200 chart and becoming the band's first platinum-selling album. The band continued to release successful albums throughout the late 1970s and early 1980s, including "Spitfire" (1976), "Earth" (1978), "Freedom at Point Zero" (1979), "Modern Times" (1981), and "Nuclear Furniture" (1984).
Steve Augeri is best known for his work as the lead vocalist of the rock band Journey from 1998 to 2006. He began his musical career in the late 1970s, performing in various local bands and eventually joining the band Tyketto in 1989. In 1998, Augeri was chosen to replace Steve Perry as the lead vocalist of Journey. He recorded three albums with the band, including the platinum-selling "Arrival" in 2001. During his time with Journey, Augeri was known for his powerful and emotive vocal performances, as well as his ability to replicate Perry's vocal style. He also wrote several songs for the band, including the hit single "Remember Me."
Mark McGrath is an American singer, songwriter, and television personality best known as the lead singer of the rock band Sugar Ray. His music career started when he moved to Los Angeles and began working as a production assistant on music videos. He eventually formed Sugar Ray with his friends in 1986. The band released their debut album in 1997 and achieved mainstream success with their hit single "Fly." The band went on to release several more albums. McGrath has also had a successful solo career. He released his debut solo album in 2003 and has since released two more albums.
On July 29, 2023, Bret Michaels' 2023 Parti Gras tour will be rocking at the Hollywood Casino Amphitheatre in Maryland Heights, Missouri. Do not miss this energetic concert. Get tickets now!