Credit Union 1 Amphitheatre | Tinley Park, Illinois
A hundred days have made me older, Since the last time that I have been outside, A thousand lies have made me colder, And I don't think I can stay inside anymore, But all the miles that separate, Are not enough to keep me away from 3 Doors Down at Hollywood Casino Amphitheatre on Thursday, August 5th 2021 with special guests Seether. I'm here without you, baby, But you're still on my lonely mind, You still have to buy some tickets, To go an see 3 Doors Down, But you're still with me in my dreams, And tonight it's only you and me, yeah.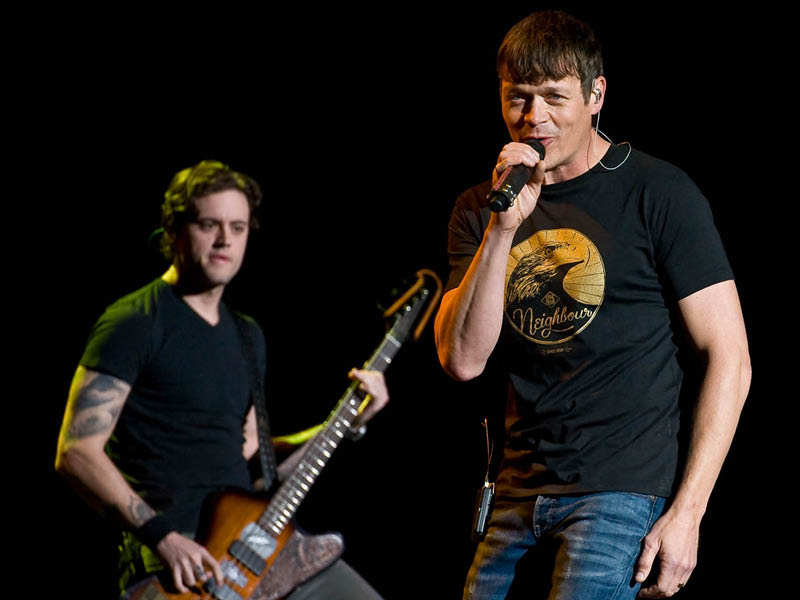 3 Doors Down will be celebrating the 20th Anniversary of their debut album, The Better Life. 2020 marked the 20th Anniversary of their debut, and for the first time ever, the band will play The Better Life in its entirety, front to back, along with the rest of their hits on The Better Life 20th Anniversary Tour.
3 Doors down debut album, The Better Life, was released in February 2000. The album was the 11th-best-selling album of the year, with the singles off the album all charting at the number 1 position on the US Mainstream Rock chart, "Kryptonite" which launched their career, has become a juggernaut hit across the globe that multi-generations now sing, "Loser", and "Be Like That" all reached the Billboard Hot 100 chart, peaking at No. 3, No. 55, and No. 24, respectively. The album has become a 7x Platinum selling album and the band's best-selling album to date, with over 5,000,000 copies sold in America alone! This is the only album on which lead singer Brad Arnold played drums.
"Especially after the last year everyone has had, I am really looking forward to rocking out and celebrating with our fans this summer. It's hard to believe it's been 20 years since we released The Better Life." 3 Doors Down's Brad Arnold shares. "That album drastically changed our lives, and we are incredibly excited to celebrate the 20th Anniversary with our fans by playing The Better Life front to back this summer. It's going to be a blast, and we can't wait to get on the road and see everyone out there!"