Credit Union 1 Amphitheatre | Tinley Park, Illinois
Get ready for one of the best festivals of the year: the 101 WKQX Piqniq at the Hollywood Casino Amphitheatre on Saturday 20th May!! The lineup is almost fully announced and it looks like you're in for a treat of the best pop and rock there is to offer. Performing are The 1975, Bleachers, Jimmy Eat World, Highly Suspect, Sum 41, K.Flay, Joywave, WarPaint, and one final headlining act still to be announced!!! World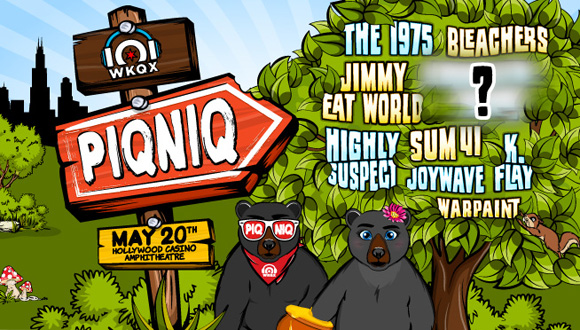 Of all the festivals around, the one you definitely don't want to miss is the Piqniq held by Chicago's most-loved radio station, 101 WKQX. (If you're not a camper this is definitely the festival for you – it's a single day).
Headlining are the 1975, British pop-rockers with their eclectic mix of mopey, boy-band aesthetic and musically clever and innovative sound that forces even the most cynical of "serious" musicians to give them credit. Next up are the New York City born indie pop act Bleachers. With their rough, 80's-inspired production techniques and songs written to be anthemic crowd-pleasers, they'll get you pumped up perfectly for the headliner! As for Jimmy Eat World are already busy touring, but they've made space to bring their own particular brand of slightly dark and self-indulgent rock to 101 WKQX, a welcome addition to the line-up.
Joining them expect massive songs from rock band Sum 41, hard rock from the best-friend and twin brothers trio Highly Suspect, wild open melodies and mad synth-rock from Joywave, dark, angry minimalist rock from K.Flay and hypnotic vocals and post-punk rhythms from art-rock act WarPaint. There's more here than you can possibly wrap your head around, a selection of bands each with a unique and distinctive sound. Get ready for one of the best musical experiences of your life!!