Credit Union 1 Amphitheatre | Tinley Park, Illinois
Country fans, get ready for the hottest show of the season. Dierks Bentley, Cole Swindell & Jon Pardi are coming to play the Hollywood Casino Ampitheatre on Friday 28th July 2017!! Three incredible country acts, one incredible country concert. Tickets for this event are going to just disappear – be speedy about grabbing yours!! Click the "Buy Tickets," button above to secure your place NOW!!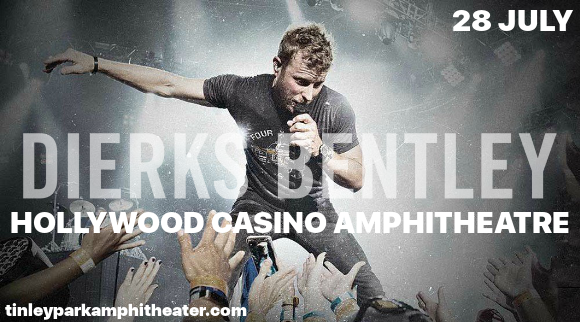 A truly unique act among country artists, Dierks Bentley has had a uniquely long and creatively fluid career, adopting a range of styles to effortlessly navigate the ever changing trends in popular music. His work is undeniably contemporary, appealing to a massive modern audience, but he always stays true to his bluegrass roots and retains a solid, coherent sound enough not to alienate his more traditional country fans.
With regards to the methods behind his almost universal, Bentley's approach is straightforward. "I have only made albums for albums' sake and have not worried at how they translate on the road," he explains, frankly. "This is my eighth record – I don't know how many more I'll be able to make. I want to go out and make the best records I can."
He will be on tour promoting his 2016 release, "Black," an introspective concept work that follows a relationship through its highs and lows. So far it has been Dierks Bentley's most successful album yet, peaking at number 2 on the Billboard 200 and achieving the status of best-selling album of the week, with over 88,000 sales.
What are you waiting for?? Catch all this LIVE – get your tickets to see Dierks Bentley today!!